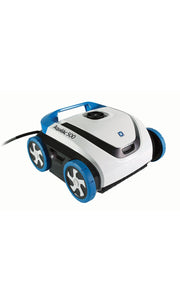 Hayward Robotic Cleaner AquaVac 500 with Caddy Cart, timer, 60' cord swivel
With the Aquavac, Hayward has introduced one of the most reliable, sturdy and easy to use robotic pool cleaners - and swimmers all over North America rely on the AquaVac to do the hard work of keeping their pools clean.
Why Choose the Hayward Aquavac Robotic Pool Cleaner?
This Hayward pool cleaner is one of the smartest and simplest robotic pool cleaners on the market. The Aquavac is programmed to clean every inch of your pool, including the floors, walls, fixtures and waterline.
With the Aquavac, pool owners have the option of setting the robotic pool cleaner to run on a regular 3-hour cycle, preventing building and providing regular maintenance on your pool. But, the Aquavac also features a convenient 90-minute quick-clean cycle - perfect for giving your pool a quick scrub before a party. Moving the cleaner to and from the pool is simple with the included caddy.
This robotic pool cleaner is among the smartest on the market. The easy-clean filter means clearing your cleaner of debris is simple and quick, and let's you get your cleaner started within moments. Beyond the powerful cleaning it provides, the Aquavac also includes sensors that prevent it from running when out of water - preventing damage, and ensuring the longevity of your cleaner.
Operating a pool takes a lot of time and effort, particularly when you like your pool to be sparkling clean and looking its best. The Hayward pool cleaner is one of the most reliable and effective robotic pool cleaners you can buy, making maintenance simple, even on very large pools.
With a 3-year warranty, you can rely on your AquaVac robotic pool cleaner to provide simple, effective cleaning for your pool for years to come - so you can spend more time enjoying the water.
Features
Runs Independent of pool equipment
Cleans Pool floor, walls, cover, and waterline
3 hour cleaning cycle & 90 minute quick cycle
Cleaning Schedule - 1 time per 24,48 or 72 hours
For pools up to 20'x40'
Covers all pool surface types
60' cord length - Kevar reinforced
3 Year warranty