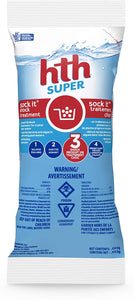 HTH SUPER SOCK IT SHOCK 68%
HTH Super SSock It Shock is fast acting and powerful! HTH Extra Super Shock contains 68% available chlorine, making it 15% stronger than regular HTH Shock! It's fast dissolving, extra fine formula is made with a patented process that makes it perfect for weekly shock treatments and killing algae.

No need for messy liquid chlorine for sanitizing your pool, HTH EXTRA is easier to store and use. 1 pouch is approximately equivalent to 10 liters of liquid chlorine.


Benefits:
Compatible with chlorine, ozone, mineral systems, and salt water pools
Calcium Hypochlorite
Contains 75% available chlorine
Fast dissolving, extra fine formula - no need to pre-dissolve
Perfect for weekly shock treatments
Kills algae
---
We Also Recommend