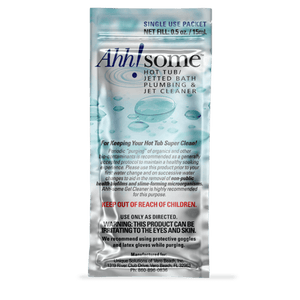 AHH-SOME Hot Tub/Jetted Bath Plumbing and Jet Cleaner
Ahh-Some is specifically made to dislodge and remove plumbing and jet build-up. The unique formula is environmentally friendly and eliminates the build-up of bio-fouling inorganics, oils, lotions, cosmetics, exfoliated skin, and other contaminants. It cleans and detoxes the plumbing, jets, and shell of hot tubs and jetted bathtubs, working as a great product to clean all those parts you can't get to.

Even brand-new hot tubs should undergo the purge that Ahh-Some provides, as buildup in manufacturing does occur! With this product, you know your water will need fewer chemicals to be crystal clear and smell fresh. 
The clarifier in the gel will allow the filter cartridge to efficiently entrap these substances. Ahh-Some Hot Tub/Jetted Bath Bath Plumbing and jet Cleaner can be used with Di-Chlor, Ozone, Bromine ,Chlorine, Nature 2, Spafrog and almost any sanitizier.
15 ml Single Use which is perfect to pruge a hot tub up to 450 gallons in size.
---
We Also Recommend